How to choose the right pool coping
Summer is around the corner and it's time to think about your backyard projects! Whether you are thinking about installing an inground pool, or you already have one, there is almost something to improve when it comes to home projects! Did you know that there are pavers specifically made to be installed around a pool? They create a unique and high-end finish to your pool. In addition, the Rinox paver can be installed the same day as your Aquarino pool so you can enjoy your new backyard even sooner! Be inspired by the following ideas and let yourself find the perfect and most original combination to highlight your new pool!
Minimalist and Refined style
Choose a slab with a smooth finish to go with your Aquarino pool to create a zen and modern atmosphere. Depending on your choice of pool color, grey and white are great color choices to accomplish a more modern look. For instance, Rinox offers the Viva border in Midnight black or Anthracite which are 2 simple yet trendy options to put around your pool. Ask for a linear installation from your Landscaper to create the cleanest most polished look!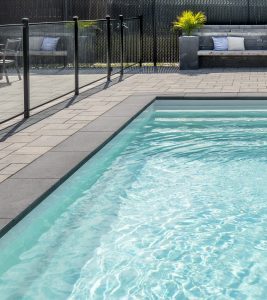 1123 model
Large and elegant slabs
Trending since last season are big slabs! Elegant yet modern, this type of slab will add a growing effect to any size backyard! These slabs will make your pool more inviting. The Rinox Landscape collection has many large models to choose from. The Proma 3XL is by far the largest measuring 32×48 inches and is available in five beautiful colors. All these characteristics make it an easy choice for your landscape project.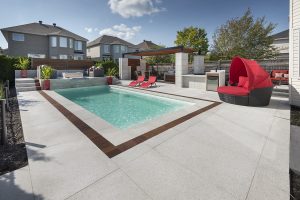 1227 model with Proma 3XL slabs
The Proma step can also be used as a pool border in a landscape project. This step is offered with a polished edge for optimum safety! The highlight of this product is that you can relax easy around the pool because of also available with chamfered edges for optimum safety! Its large size will allow you to sit comfortable around the pool on those beautiful sunny days!
Unique Finishes
Some concrete copings can be used as a design detail integrated in a retaining wall. Building a retaining wall by your pool is a trendy alternative to make your backyard more unique. For a relaxing ambiance, build a waterfall into your retaining wall as seen in the inspiration photo below.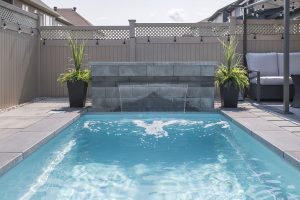 816 model, Rinox Ora wall and Solino border
The insertion of a darker stone gives a modern and linear appearance to the wall. Don't hesitate to mix colors, forms and textures to create a distinctive addition to your decor!
An inground pool is unavoidable when imaging a dream backyard! By adding a concrete pool coping to your fibre glass pool, you will instantly add class and quality. Furthermore, it is a safe and resistant alternative. Consult our gallery for more inspirations or contact us for a free quotation including an Aquarino pool installation with a Rinox concrete border!