Aquarino pools require easy maintenance unlike traditional pools. Heating is made easier because of the fiberglass which is an insulating material. Discover the many advantages of fiberglass!
Simplified pool maintenance
Our pools require less maintenance than conventional pools.
Our pools' smooth floor and walls:
Keep dirt from sticking.
Eliminate the risk of algae formation.
Allow faster cleaning of the ring caused by sun lotion. The dirt will bead along the edge rather than stick as it would on a liner.
Not to mention:
No liner to replace and no painting required.
Produced from insulating materials.
Fiberglass is an insulating material.
These features ensure that your water will always be at least 8ºF warmer than that of any other pool designs.  In fact, with a heating system, your AQUARINO pool models will allow you to start your swimming season earlier and extend it later. Heating costs for customers who choose to purchase a water heater will be lower than those of our competitors, since our pools holds heat better than any other type of pool.
Installed regardless of weather conditions. Less damage to the property than with conventional pool installations that take more than 3 weeks.
We have all the required equipment (trucks, power shovels, etc.) to excavate your pool; all work will be carried out by our qualified employees.
More time to enjoy the summer in your pool the first year!
*Please note that the connection of pipes and electricity and the paver installation will be done in the days following the installation of the shell.
Fiberglass pools made in Canada
Aquarino pools are made in a new technological factory in Canada, with ultra-modern equipment and an experienced team. Also, Aquarino is accredited with the Made Well Here logo. This program is to encourage the purchase of quality building materials and other items manufactured in Canada and intended for the residential market. Aquarino is a division of the Rinox Group. Aquarino pools go perfectly with the Rinox Landscape collection and create unique and innovative projects!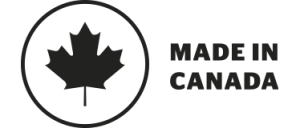 ANY QUESTIONS ABOUT FIBERGLASS POOLS?